Guys … I seriously love working with Paul.
I can tell you, even back when we first started working together, he treated me like an equal.
He never once made me feel like I was inferior to him…
And that's because he wanted me to feel comfortable sharing my wackiest, weirdest investment ideas with him.
He knew that for every 99 ideas that were duds, one idea might be all it took to change our reader's lives.
Back in 2017, in our private conversations, there was one drum I was beating.
Bitcoin.
I still have some of my old financial statements. Here's one showing I was buying in six months before the bubble burst when bitcoin was still under $3,000.
As time went on, I bought a lot more…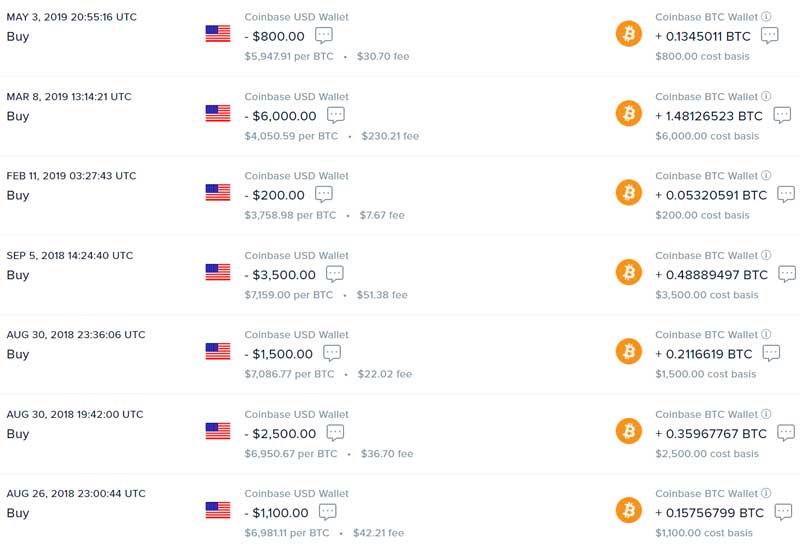 Even four years ago, Paul and I had pretty strong convictions about the long-term trajectory for bitcoin.
But I took some time to actually go back and look at our list of calls and predictions in this space.
What I found was pretty awesome.
Prediction #1: We Nailed Bitcoin's Top
You probably remember the frenzy in 2017.
CoinDesk ran an article on January 1, 2017 noting that bitcoin topped $1,000 in the first trading day of the year…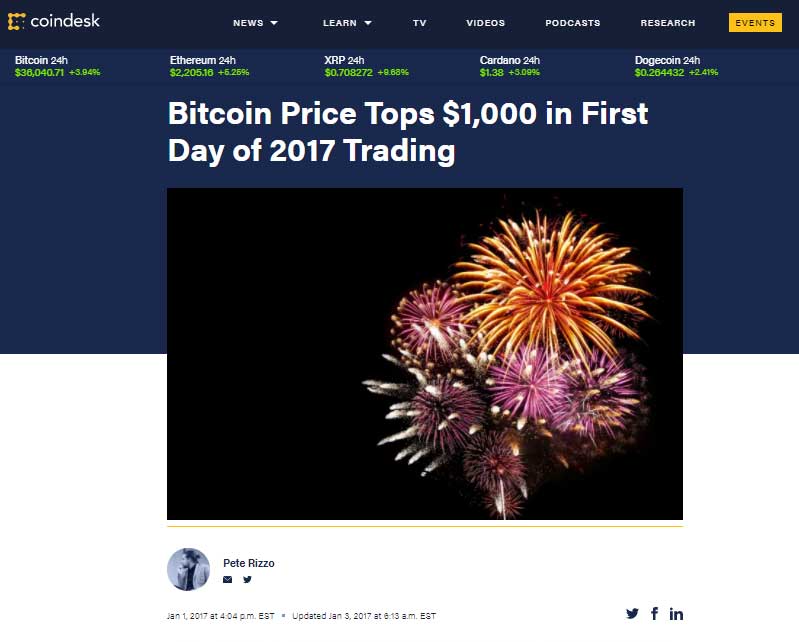 By December 18, bitcoin topped in intraday trading at $19,738.21.
A 1,873% climb in just shy of 12 months.
I was riding the wave, but Paul was telling folks to stay away.
He called it to the month…
On December 1, 2017, two weeks before the top, Paul said:
"The last time I saw this kind of mania was in 1999. It reminds me of a friend who lost all her money in dotcom stocks. There's nothing underneath [bitcoin], no products or services, just news that it's going up driving higher and higher prices. Stay away."
After that, bitcoin crashed over 80%.
I want people to see this because sometimes people call Paul and I "permabulls" who are always bullish and just trying to sell you on our bullishness. Paul made an unpopular call back then and decided to warn people when everyone was buying and losing their minds in the frenzy. We always have our readers' best interest in mind.
But we didn't just call the top.
Prediction #2: We Called the Bottom
Within FIVE Trading Days
On December 20, 2018, Paul went on YouTube and brought everyone's attention back to bitcoin.
This was exactly one year after the top. By this point, bitcoin had lost over 80% of its value.
The frenzy was over. The panic was over…
People thought bitcoin was dead.
And Paul absolutely called it.
He said:
"I believe bitcoin has actually bottomed. That's right, I am now positive on bitcoin. My study of bubbles and manias indicate that 80% is when people give up. [Bitcoin] is now only held by the people who believe in it, the Strong Hands. These people are unwilling to sell. Bitcoin could go slightly lower, but I'm calling a bottom."
We now know, in hindsight, that bitcoin bottomed exactly when Paul said it did … on December 15, 2018 when it touched $3,100 per coin. It bounced hard showing support, then within five days he called the bottom.
Anyone who bought there would now be up around 1,000% on their bitcoin.
The list goes on, guys…
Prediction #3: New Highs in 2020!
On January 10, 2020 — when bitcoin was still trading below $10,000 — I published this article on our website: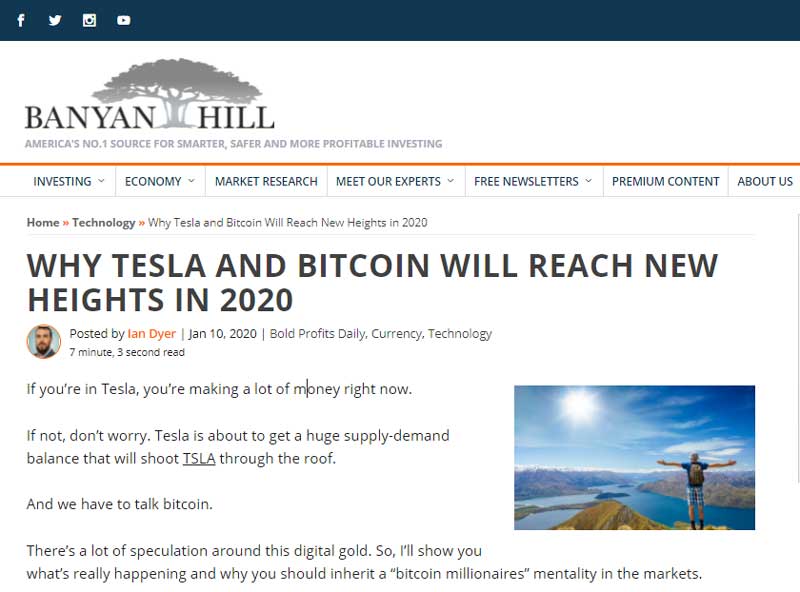 Our Next Prediction
I think you're going to be blown away once you hear how high Paul and I think bitcoin can go next.
And the crazy part is, bitcoin isn't even our favorite crypto investment to own anymore.
But once you realize how high it can go … you will understand why it will be a bastion for the entire crypto market, causing other crypto coins or "altcoins" to soar much higher than bitcoin on a percentage basis.
Please understand, I'm not showcasing these predictions to brag about how smart Paul and I are.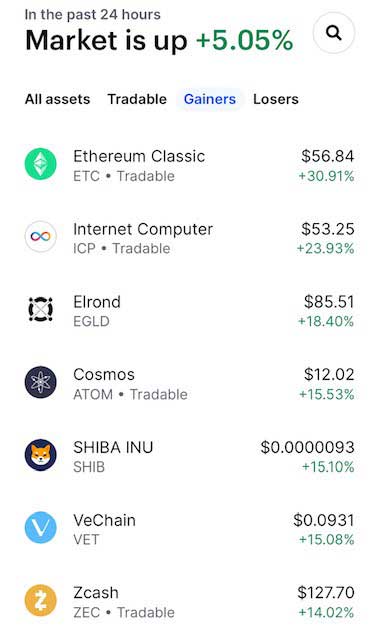 I do it because this is a profit opportunity of epic proportions, and I want you to be able to put your trust in our strategy.
I spent the last year aggressively trading cryptos in my own account as well as conducting a comprehensive beta test for our subscribers. We took our time getting it right.
Over the first five months of the beta test, we captured 32 STRAIGHT wins trading 17 different cryptos. We didn't close a single loss, and I even advised holding through May's selloff because I am absolutely, 100% convinced this market is coming back.
We're already beginning to see the signs.
Here's a look at some big movers on Coinbase just earlier this week. [i]
Look! There are SEVERAL double-digit price moves happening even in small, 24-hour periods.
This bull still has plenty of life. Mark my words.
Tune in next week during Enter the Cryptoverse, July 7, at 4 p.m. ET.
See you there.
—Ian